Bill's "about me" page

Became interested in bottle collecting in the early 1980's as a young teenager when my father found a couple on a dive with a mate, been hooked ever since. Joined the Van Diemen Antique Bottle Club in 1984 to meet like minded people, Have served as both President and Editor of the club over the years. Have met a lot of great people through the club, and indeed the hobby itself that I regard as close friends.
Met Phil through the club and have shared the passion together ever since, spending a lot of our spare time in the water looking for that elusive bottle to add to our respective collections. Most of our time is spent diving, however we do enjoy digging for bottles as well, if the opportunity arises.
Interested in not only the bottles, but the history that they tell, the companies that used them etc.
My main interest is in Tasmanian Aerated Waters bottles, over the years I have amassed a collection of around 550 different Tasmanian bottles including stone ginger beers, marble stoppered, stone Demi Johns and torpedo shaped bottles from all around this great state of ours, dating from the early 1820's through to the 1930's. I am always on the look out for something to add to my collection, and there is no bigger thrill than adding an item to my collection that I have personally found.
I do have a few other items from other states that have caught my eye for one reason or another.
We are more than happy to give a free valuation and appraisal on your item or items with no pressure to sell, in the event that you do wish to sell we would certainly be interested in purchasing items that would fit into our collections, in the event that you have items from other states, with our contacts within the hobby we would be able to help you out with those as well. Particularly interested in items with "HOBART TOWN or HOBARTON" on them, glass or clay, these items would attract a premium price. Also interested in clay items with G Wise HT, Stodart Tasmania, W Wise Druggist, WW, or J Sherwin in small 2mm lettering on them.
Cheers,
Bill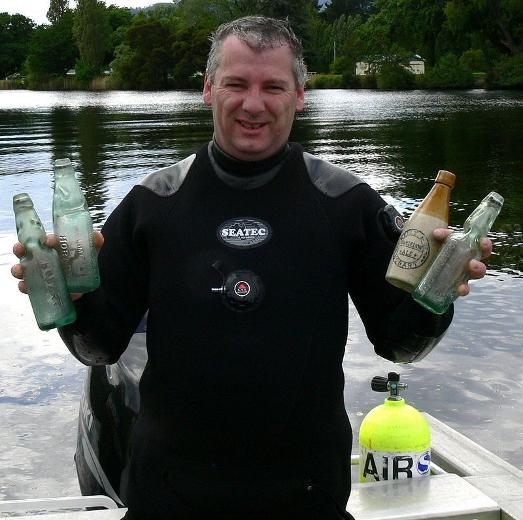 Bill just coming out of the water after a dive and a few of our spoils for the day

Phil's "about me" page

Have had a keen interest in bottles since about 12 years old in the mid seventies when my dad came home from a diving trip with a ginger beer bottle, Kelly & Co Hobart from memory. Back then we really had no idea what was what until by chance heard a radio interview with a local collector from the Van Dieman Bottle club. Long story short contact was made, joined the club and have gone on from there. 40 years later still have the passion like on day one, a lot has changed over the years particularly with the advent of the internet and availability of information and research. This has led Bill and I down the path of setting up this website as an avenue to help others with history, values and hopefully find more bottles lol Please be warned this is a very addictive hobby once you get hooked.
It never ceases to amaze me what will turn up next particularly items from our earliest days of settlement in Hobart, an example being Spruce and Ginger Beer clay bottles dating to the mid 1820's with Tasmanian manufacturers names stamped. The actual bottles were made in Sydney and shipped to Hobart, drank, discarded and then found some 180 years later, pretty amazing really.
We are both regular scuba divers and find many items this way, not only bottles but china from our early steamships which has turned into another collectible. Bill even found a couple of cups from the White Star Line, same company that ran the Titanic.
If you have any bottles or other items that may be of interest, particularly old Tasmanian Memorabilia give us a call or send an email. Photos are very handy and help greatly with identification and valuation. If you are just after some history that's fine only too pleased to help.
We also collect bottles from other areas in Australia and other parts of the world, plenty of British and New Zealand items have turned up here too. If we don't have an immediate answer for you then it shouldn't take too long for us to find out.
Cheers Phil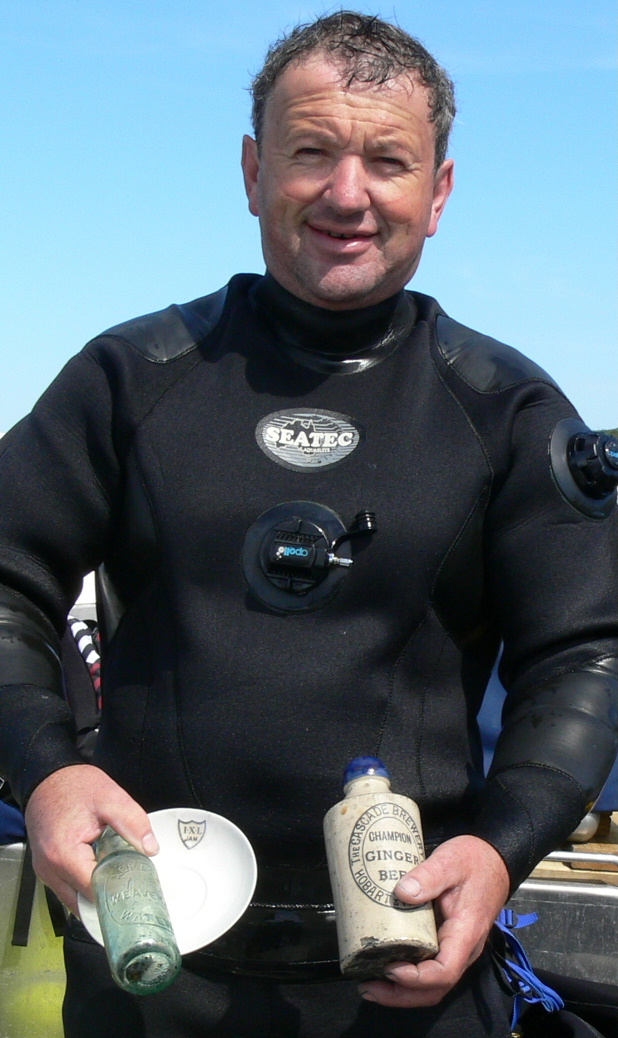 Phil just getting out of the water with a few finds